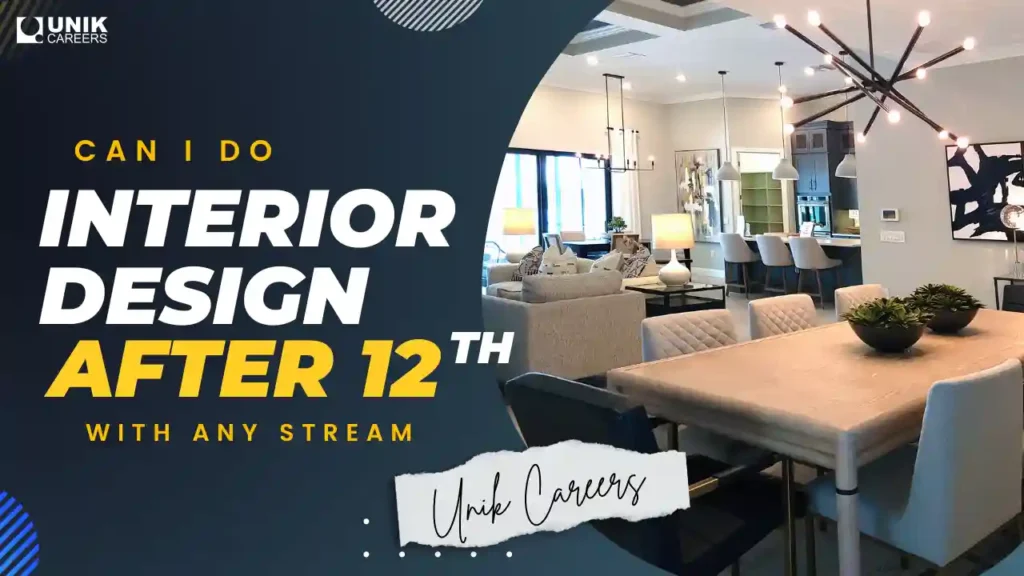 Can I do Interior Design course after 12th with commerce, art, science stream?
Does the art of innovation interest you? Do you have an artistic approach to life and creative problem-solving skills? If yes, interior designing is a great course for you. Nowadays, interior designing is one of the most sought courses. It gives plenty of opportunities to the students to make a successful career in this field.
From working in the top firms to opening your own firm, everything is possible with an interior designing course. If you have the relevant creative skills and are ready to undertake every challenge, the course will be great for you. Although the field looks lucrative to the students, the degree requires a lot of hard work and patience. Here is everything you need to know about this course if you are planning to enter this field.
Who can opt for Interior Design course?
An interior designing course can be done after an individual completes the 12th standard. It does not matter which stream you are from, be it science, arts or commerce, everyone can opt for this degree. 
However, be sure of what it takes to be an interior designer before just jumping on any decision. Communication skills, creative approach, observational skills, critical thinking, good listening power and sketching abilities are a must in this field. You should be a creative person in general if you wish to achieve great things in this field. 
Benefits of pursuing this career 
Interior designing is undoubtedly one of the best courses for students who are interested in this field. Before you start your decision-making process, you should know about a few aspects. Without any further ado, let's get started:
The global interior designing industry is estimated at USD 150.7 billion. This clearly shows how huge this industry is and it has a plethora of opportunities to offer if you have the right skills. Also, the growing need to have an aesthetic workspace or home is simply increasing the demand for interior designers. Right now, the job opportunities are amazing for all aspirants. Get offers from the top firms after completing your course from a reputed university. 
In this career, you have the freedom to express yourself through your work. After understanding the client's requirements, you can experiment with your ideas and try different things. This field does not restrict you in any way and therefore, you will truly feel elated after working with clients and delivering great outcomes. 
After working for firms, most interior designers decide to work for themselves. Opening your own firm and running it provides greater job satisfaction. Make new clients and decide how you wish the workflow to be. With relevant experience, you can build your brand and make a name in the industry.
If you feel like you are not as productive in a boring or regulated environment, interior designing is just meant for you. In this job, you are always on the go and you constantly solve problems. Manage multiple projects, work with different clients and bring fruitful results to the table. 
Why should you pursue interior designing?
Interior designing courses give exposure to students so they can make the best use of their abilities in internships and other aspects of college. Learn about industry-relevant skills and get a chance to work in a professional environment. Know how to handle complicated tasks and drive your imagination to create amazing end products. 
The best thing about this industry is that it is never stagnant. If you build a stable foundation with the right skills, knowledge and networks, you will become unstoppable. Anyone who has a passion for creativity can pursue the degree, no matter if you opted for arts, commerce or science in high school.
It's time to flourish your inspiring future in the interior designing stream with Unik Careers. We're always happy to guide you through your journey and provide the best education. Wait no further, get in touch with us today and lead the pathways of the industry with us.
Yes, you can do a diploma in interior design or a BSc in interior design after 12th grade and make your career in interior design.
Yes, anyone who has completed their 12th grade in any Stream is eligible. 
Interior design can be a good career choice for those who are passionate about designing and creating functional and visually pleasing spaces. You also have to understand the client's requirements.