INTERIOR DESIGN COURSE IN DELHI
Interior Design Diploma

Course in Delhi
With a changing lifestyle and rapid urbanization, the scope of interior design has expanded dramatically, making it one of the most in-demand occupations in India today. The Interior Designers sector is expected to generate $23.8 billion in sales in 2022, as stated by Ibisworld. Interior design is the art and science of improving the interior of a structure in order to provide a healthier and more visually pleasing environment for those who use it. In India, a career in interior design is quite promising. With ever-increasing and growing infrastructure, demand is unlikely to decrease.
We provide interior design courses online as well as offline. Students of all age groups join our offline and online courses in interior designing, some join interior designing course after 12th or 10th, some join after graduation, etc.
In the past few decades, India has seen a boom in interior start-ups, which in itself shows the ongoing and upcoming craze for this career. The flexibility to open your own firm with little / no infra or to work in any reputed interior or architecture firm adds starts to this career.
Do you have an interest in interior design? However, you are unsure where to begin and may be thinking if it is a suitable match for you. Let's figure that out for you and let's know about interior design with Delhi being a powerhouse of interior design education. You will also discover a well-researched list of interior design courses like B.Sc. in interior design, online interior design courses, and diploma, and certificate courses in interior design in Delhi.
Our

Batches
Become a professional interior designer from the comfort of your home 
1 Year Batch
Basic Diploma in Interior Design
This batch consists of 4 modules, the first one will focus on software training and designing, the second will focus on market study, third will focus on construction and execution and the final will focus on cost estimation and interview preparation.
2 Years Batch
Advance Diploma in Interior Design
This batch consists of 8 modules, from the first module which will be software training and designing to the last module which will be cost estimation and interview preparation each and every aspect on interior designing will be covered thoroughly.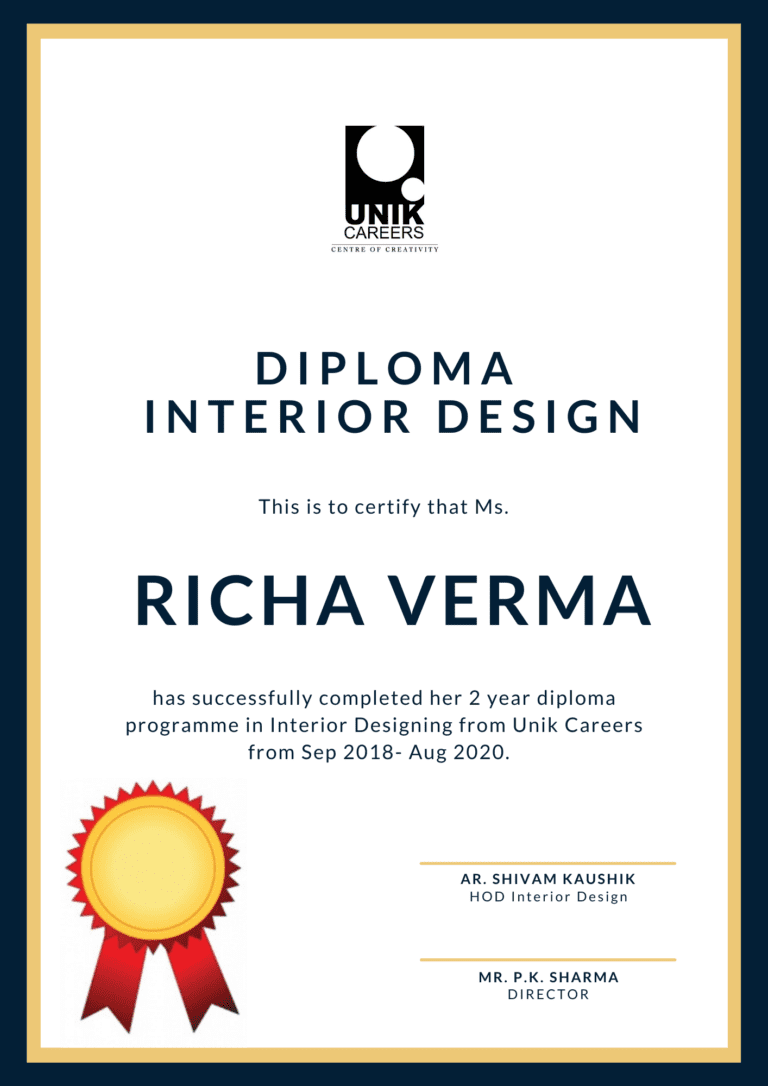 Why should you pursue an

Interior designing course

in Delhi?
Indian Design Report presents that 47% of 170 design studios (sample size), and 22.94 % of design studios that had revenue of INR 2,50,00,000 existed in Delhi. Mumbai and Delhi are obvious locations for design firms since they are home to the most powerful Indian organizations from a variety of industries.
These two cities have a thriving design services sector. Another factor for the concentration of design firms in these locations is the presence of prominent design school institutes. The Indian design education system provides a wide range of program options at all levels, including certificate, diploma, undergraduate, and postgraduate degrees.
Talking about so many courses, let's find out what these are
Quick Overview of

Interior design course

in Delhi?
There are a plethora of courses and programs out there for candidates to pursue interior design as a career. These courses include 66 degree interior design courses, 33 certificate courses in interior design, and 75 Diploma courses in interior design. For obvious reasons, a lot of questions arise in the candidate's mind, like how do I qualify for any of these courses, which course would best suit my interests, etc.
Candidates with Class 12th from a recognized board are eligible to participate in an interior design course. Most institutions, however, have additional eligibility requirements that state that candidates must have studied Mathematics and Physics as a full-time course or as an optional subject in their Class 12 to be eligible to enrol in an interior design degree. Nevertheless, most Diploma in Interior Design courses require an SSLC/10th-grade pass.
Delhi offers a majority of well-equipped interior design campuses. Likewise, these institutions provide undergraduate, post-graduate, diploma, and certificate courses. The choice to select which course to pursue is completely in the hands of the candidate. Some of them prefer taking a complete degree course whereas some opt in doing the short-term courses like diploma or certificate courses. Some of the institutions like Unik Careers are pioneers in providing interior design diploma courses and certificate courses.
Now that we have a basic understanding of the types of interior design courses and what are the eligibility criteria to apply for them. Let us explore the best interior design courses in Delhi
Best

Interior Designing Course

in Delhi
For a better understanding, we have categorized the courses on the basis of the time taken for completion. So, let's dig into the best interior design courses in Delhi offered by some of the reputed institutes in Delhi. These are:
» Short-duration courses
–          Certificate in Styling for Home
–          Professional Certificate in Styling for Interior
–          Print Design for Apparel and Home (Certificate course)
–          Foundation Certificate in Interior Designing in Residential Interiors
–          Textiles for Interiors and Fashion (Certificate course)
---
» Diploma courses
–          Basic Diploma in Interior Design
–          Interior Design and Styling (PG Diploma)
–          Diploma in Interior Design
–          PG Diploma in Interior Design
–          Postgraduate Professional Design Diploma in Interior Space and Product Design
–          Advance Diploma in Interior Design
–          PG Diploma in Interior Design and Technology
---
» Undergraduate courses
–          International Dual Degree Programme in Interior Design
–          B.Des in Interior Design
–          Undergraduate degree in Interior Design and Exhibition
–          B.Sc in Interior Design
–          Undergraduate program in Interior Design
–          B.sc in Interior Design and Decoration
---
» Postgraduate courses
–          Postgraduate program in Interior Design and Styling
–          Master of vocation in Interior Designing and Business Management
–           PG in Interior Design and Styling
Careers option After

Interior Design Diploma Course
If you want to pursue a career in interior design, it is crucial that you manage your funds wisely. Selecting the best institute to pursue interior design has to be smart. Remember that unconventional choices are not wrong and quality does not necessarily have to be pricey. 
Henceforth, Unik Careers is one such great paramount omnichannel educational institution for students seeking unique courses such as Interior Design, Architecture, Design, BFA, Fine Arts, and so on. Students can enrol in their long-term as well as short-term offline or online batches, such as 2 years,1 year, 6 months, crash courses, and so on.
Every job demands devotion, ability, hard work, and patience, and interior design is no different. So, what are you waiting for, get enrolled in the best courses!
Our Branch :
East Delhi, Laxmi Nagar 
Easily approachable for students from areas like Noida, Greater Noida, Vaishali, Kaushambi, Yamuna Vihar, Shahdara, Anandvihar, Meerut, Faridabad, Bulandshahr, Hapur, Mathura, Preet vihar, Nirman Vihar, Mayur Vihar, etc.
Our upcoming branches will serve areas like Connaught Place, Rajiv Chock, Karol Bagh, Dwarka, Janakpuri, Uttam Nagar, Rajouri Garden, Kirti Nagar, Ashok Nagar, Faridabad,Gurgaon/Gurugram, Hauz Khas, Green Park, South Extension, South Extension 2, Lajpat Nagar, Kalu Sarai, Malviya Nagar, Saket, Munirka, Vasant Vihar, Kohat Enclave, Rohini, GTB Nagar, North Campus, Mukherjee Nagar, Netaji Subhash Place, Pitampura etc.
To get further knowledge about timings and other counseling-related issues kindly contact us via call/mail or just simply fill out our inquiry form and we will get back to you as soon as possible