INTERIOR DESIGN COURSE IN NOIDA
Interior Design

Course in Noida
Every house tells a story: beautiful and classy interior results from combining creative and artistic abilities. An interior designer ensures that your home reflects your personality. A beautiful interior is created by combining art and science. It entails conceptualization, space planning, site inspections, programming, and research. 
Do you want to take an interior design course in Noida after you finish high school? You've come to the right place. Interior design is a magical combination of art and science supported by scientific theories and concepts to create aesthetically pleasing and functional indoor environments. Let's explore more about this course!
Our

Batches
Become a professional interior designer from the comfort of your home 
6 Months Batch
Certificate in Interior Design
This batch consists of 2 modules, the first one will focus on software training and designing whereas the second will focus on construction and execution.
1 Year Batch
Basic Diploma in Interior Design
This batch consists of 4 modules, the first one will focus on software training and designing, the second will focus on market study, third will focus on construction and execution and the final will focus on cost estimation and interview preparation.
2 Years Batch
Advance Diploma in Interior Design
This batch consists of 8 modules, from the first module which will be software training and designing to the last module which will be cost estimation and interview preparation each and every aspect on interior designing will be covered thoroughly.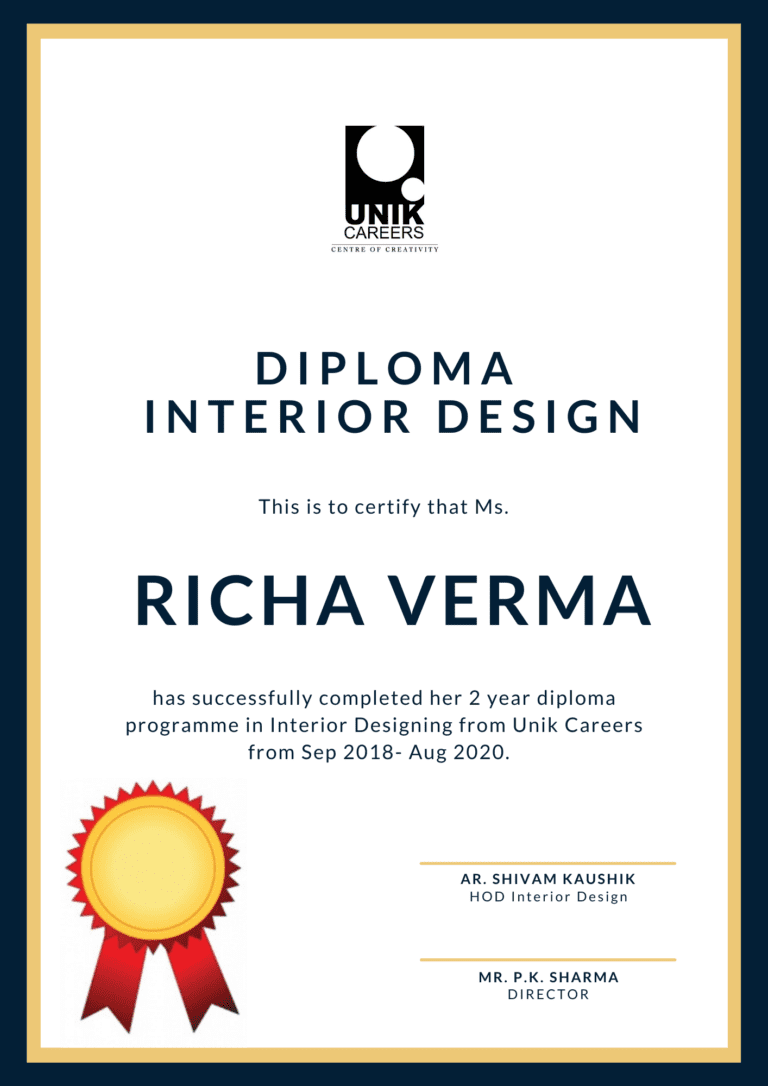 Interior design is one of the fastest-growing professions in India. Site surveys, plan reading and analysis, drawing techniques, interaction with the client, and layout design are all tasks performed by an interior designer. Those who are good at sticking to a budget and knowledgeable about various materials should consider interior design a potential career path. Furthermore, people with an eye for detail and a desire to solve problems would make excellent interior designers.
A career in interior design allows you to paint society with the colors of class, sustainability, fashion, and beauty. Allow the power of your imagination to alter the way you see the world. We have everything for our students to compete and win in the race of life, from a one-year course in interior design to a certification course in the same field of your choice.
What is special about Unik Careers for

Interior design course

in Noida?
With Unik Careers, you are sure to find the best interior design diploma courses in Noida that are crafted to suit the needs of each student. It provides an ideal setting for students to study interior design. Our diploma programs and certificate courses in interior design in Noida are designed in such a way that a student will master the art of using tools required for the various technical, decorative, or marketing sectors of interior design and product design.
Our goal is to teach our students the fundamentals of interior design, such as painting and lighting theory, wall coverings and flooring, and drawing, sketching, and illustration. Our 6 months of interior design course in Noida prepares students for the workforce, and the most experienced faculty members assist them in gaining knowledge.
Unik Careers is on an encouraging mission to empower interior design students. With the experts at Unik Careers, you get to learn how to apply untapped practical skills to develop intelligent designs for any lifestyle or space.
We are one of India's forerunners in this field, with many years of experience running the best Interior design institute in Noida, academics, and specializations. Learn interior design and style your career with the top interior designing institute in Noida's flexible options of Professional Diploma, Higher Diploma, and Post-Graduate Diploma. Improve your artistic, theoretical, and technical expertise with our offline and online interior design courses in Noida that are designed and planned to meet the needs of our students. Make your way into one of the most promising careers in India by working in Exhibition Centers, Property Developers, Furniture Manufacturing, Self-Employed, Interior Designing Companies, and many other fields.
What Unik Career Offers?

Interior Designing Course

in Noida
We provide interior design diplomas both online and offline. A diploma from Unik Careers is valid for any interior design job in the world. The portfolio students create during the course is an asset during any job interview. This course also provides our students with exposure, which helps them stand out in the field. Some additional features include
Site Visits
Online Test Series
P.A. Delhi Faculty
Seminars with field experts
Unik Career Interior Designing Program:
Our placement records speak for themselves. Students find suitable jobs through our placement service, and some start their own businesses. Unik Careers helps you realize your dream of working in interior design. Our courses are appropriate for students who are professionally aware, creative, and capable of taking on responsibilities. For interested students, we offer the following programs:
Careers option After

Interior Design Diploma Course
Innovative curriculum: Our innovative curriculum and supportive educational environment at Unik Careers provide students with a level of comfort that allows them to learn.
Years of experience: With over a decade of experience in this industry, we can proudly say that we have succeeded in providing the market with innovative interior designers.
Affordable Fees: Unik Careers aims to provide high-quality education at an affordable cost for young people to learn.
Excellent Teaching Faculty: In addition to world-class infrastructure and an innovative curriculum, we have excellent faculty members with international and national exposure.
Inquiry Form
Send us your questions about our interior design course fees. You can also contact us by emailing us at inquiry@unikcareers.com or calling us on +91-9899708406 to speak to our experts.